Detailed Product Description
Specifications
1.natural and pollution-free
2.comfortable and breathable
3.massage feet and stimulate the circulation
Functions:

1)Loofah slippers made of natural plant fibre——loofah sponge are healthy and pollution-free.
2)Loofah slippers can massage the acupoints on feet and alleviate fatigue effectively.
3) Loofah insoles also can promote blood circulation and metabolism.
4)They have a positive effect on sterilization and benefit for the health of feet.
5) They are very soft ,however,have good wear-resistance.
6)They have good anti-skidding performance.

Features:
1) Made of natural plant fibre ---loofah sponge, which is soft and breathable.

2)Loofah has the drugeffect of activating collaterals ,therefore loofah slippers can massage feet and stimulate the circulation of blood.
Related products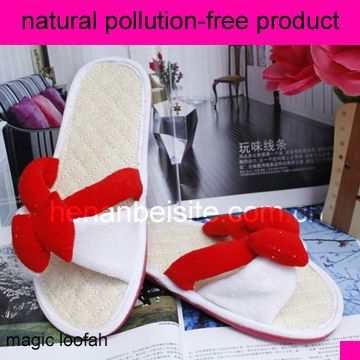 Wearing magical loofah insoles, enjoy your healthy life!